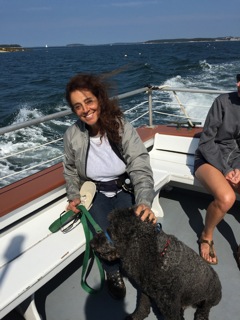 To find out more about the Brooklyn Book Festival, follow this link for More Information.
Also, follow this link to hear what our pen panel has to say sharing real history with children!
---
I'm so excited that "The Granddaughter Necklace" has been selected by the National Council for the Social Studies and Children's Book Council as a 2014 Notable Social Studies Trade Book for young people.  I've been writing this book my whole life or at least it feels that way. Since early childhood, I've been collecting family stories. Some of these, about the women in my family, provided the inspiration for this new book. Published by Arthur A. Levine Books, with miraculous illustrations by Bagram Ibatoulline, my cherished family remembrances shine like jewels!
"Although the profiles are brief, they are rich, incorporating a range of life experiences and, quite wonderfully, the blending of different ethnicities within the family. Ibatoulline's lovely, detailed illustrations have a warm glow…" School Library Journal
"Though classified as fiction, the book is clearly a personal journey, capturing individual moments that connect a family of women over the years, enlivened with images of grace, depth, and emotion." Booklist
"Wyeth's story…feeds a sense of connectivity and belonging through the generations." Publishers Weekly
---
---
Children's Book Council Notable Book, Best Books of the Year Parents Magazine 
A little girl longs to see beyond the angry scribbling in the halls of her building. When her teacher writes the word beautiful on the blackboard, she decides to look for something beautiful in her neighborhood. (All ages)
"This moving picture book offers a shining testament to the ability of human beings to find 'something beautiful' in even the most unlikely places. Wyeth's…text is thoughtful without being didactic…and her ending is just right." Publisher's Weekly
"Many multicultural books try so hard; this one succeeds without trying." Dallas Morning News
"…points out beauty that is deeper than outward appearances. A hopeful and touching story that could lead to interesting discussions both at home and in the classroom." Catholic Herald, Milwaukee, Wi.
"Luminous, realistic watercolors expose what happens when people don't care and what blossoms when they do." Lynne Burkey's KidBooks Reviews
"Inner-city children will appreciate this believable upbeat depiction of a community." Publisher's Weekly
"The true meaning of the word 'beautiful' resounds through this magnificent story…" NJEA Review
"…not only a delightful book but also an inspiring and possibly therapeutic one." Parade Magazine
---