Sharon's Books
Here are the titles and descriptions of some of my books along with awards they received and what some reviewers had to say about them.
---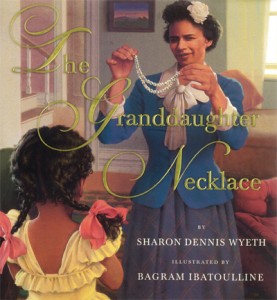 The Granddaughter Necklace
"Although the profiles are brief, they are rich, incorporating a range of life experiences and, quite wonderfully, the blending of different ethnicities within the family. Ibatoulline's lovely, detailed illustrations have a warm glow…" School Library Journal
"Though classified as fiction, the book is clearly a personal journey, capturing individual moments that connect a family of women over the years, enlivened with images of grace, depth, and emotion." Booklist
"Wyeth's story…feeds a sense of connectivity and belonging through the generations." Publishers Weekly
---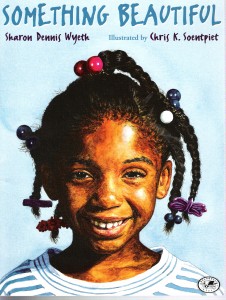 Something Beautiful
Children's Book Council Notable Book, Best Books of the Year Parents Magazine
A little girl longs to see beyond the angry scribbling in the halls of her building. When her teacher writes the word beautiful on the blackboard, she decides to look for something beautiful in her neighborhood. (All ages)
"This moving picture book offers a shining testament to the ability of human beings to find 'something beautiful' in even the most unlikely places. Wyeth's…text is thoughtful without being didactic…and her ending is just right." Publisher's Weekly
"Many multicultural books try so hard; this one succeeds without trying." Dallas Morning News
"…points out beauty that is deeper than outward appearances. A hopeful and touching story that could lead to interesting discussions both at home and in the classroom." Catholic Herald, Milwaukee, Wi.
"Luminous, realistic watercolors expose what happens when people don't care and what blossoms when they do." Lynne Burkey's KidBooks Reviews
"Inner-city children will appreciate this believable upbeat depiction of a community." Publisher's Weekly
"The true meaning of the word 'beautiful' resounds through this magnificent story…" NJEA Review
"…not only a delightful book but also an inspiring and possibly therapeutic one." Parade Magazine
---

A Piece of Heaven
New York Public Library Book for the Teen Age
Thirteen-year-old Mahalia Moon holds her life together with the help of good people after her loving family falls apart. (Grades 4 – 8)
"Wyeth's story provides insight into the tough issues faced by single parents in an urban setting." School Library Journal
"Haley is a delight; she's tough, proud…Straightforward, ingenuous narration carries the book…which distinguishes itself from others about urban families in distress by its convincing evocation of Haley's bewilderment and anger and her desperate desire to create some order in her life." Kirkus Reviews
---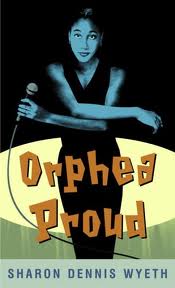 Orphea Proud
Lambda Literary Award Finalist, New York Public Library Book for the Teen Age
As high schooler  Orphea shares her story on stage, she raises questions about family, identity and prejudice. (Ages 14 and up)
"Orphea and her horse-loving buddy, Raynor, put on one heck of a show…" Richie Partington, Richie's Picks
"…a solid read…" School Library Journal
"…beautifully written, artfully told, and highly recommended." VOYA
"The unusual format along with young-adult literature's dearth of gay African-American characters, make this piece notable, but it's Orphea's passionate and poetic voice that makes it special." Kirkus, Starred Review
---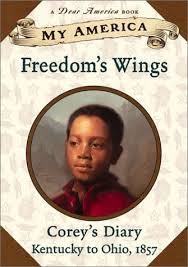 Freedom's Wings
Children's Book Council Notable Book
Corey Birdsong, a nine-year-old enslaved boy living in Kentucky in 1857, records daily life on the Hart farm and his escape on the Underground Railroad.
"…compelling, pulling readers along every dangerous step of the way…acknowledges the nameless men and women who believed in freedom enough to risk their lives to help others." School Library Journal
---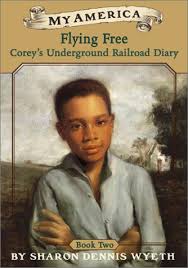 Flying Free
Corey Birdsong's diary continues as he and his family make a new life as free people in Canada. (Grades 3-5)
"Wyeth breathes full life into Corey. His voice is true and clear…There are many well-written works for children concerning daring and dangerous escapes along the Underground Railroad, but most end with the first steps into Canada. Here, finally, is a glimpse of what came next." Kirkus Reviews
---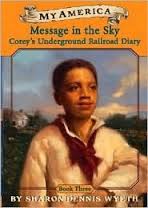 Message in the Sky
Corey's diary continues in Canada where he becomes active with the Underground Railroad. (Grades 3-5)
---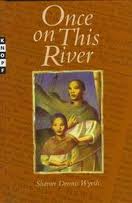 Once on This River
New York Public Library Books for the Teen Age
While on a trip wither mother from Madagascar to New York in 1760, eleven-year-old Monday De Groot, a free child of color, learns the horror of slavery and the truth about her American family. (Ages 12-Adult)
"Intense…evocative." Kirkus Reviews
"A shattering story…Young people will be caught by the history and will want to find out more about it." Booklist
"…a novel that will live in the readers' hearts long after the book has been closed." National Black Employment Directory
"How refreshing it is to see a different presentation of colonial New York from the usual patriots and politics. Wyeth's plot is original and the story is lovingly researched." Cleveland Plan Dealer
"…portrays the powerful love and compassion that can find and emancipate a family, a generation, a race." Black Issues Book Review
---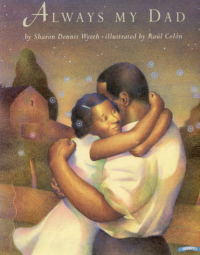 Always My Dad
New York Public Library One Hundred Titles for Reading and Sharing, "Reading Rainbow" Book
For a girl whose daddy doesn't live at home, times can be tough. But then there are the times when Daddy visits, like one magical summer. (All Ages)
"Displays such poetry and empathy that it deserves attention and praise. Offers a comforting message that many children today need to hear." USA Today
"…an exceptionally perceptive book about families who find territory fo love even where there is also pain." Reuters America Inc.
"Joyful prose…Even very young children will feel the honesty of the story." Booklist
---

The World of Daughter McGuire
Eleven-year-old Daughter moves to a new school. Her mixed-race heritages starts out as a problem but in the end proves to be a source of strength.  (Grades 4 and up)
"Daughter is a likable character in a believable situation, and her 'rite of passage' into her own sense of self is told in an easy, relaxed style that will attract a wide range of readers." Booklist
---

Vampire Bugs, Stories Conjured from the Past
A collection of ghostly tales inspired by African-American and Native American history and folklore.
"An excellent choice for fans of the supernatural." Starred Review, School Library Journal
---

Tomboy Trouble
When an eight-year-old Georgia get a hair cut and wants to play baseball, kids in her new school tease her. (Grades 2-3)
"Young readers will race through this story of a girl who refuses to conform and they won't be disappointed." Star Tribune, Minneapolis, MN
---

Ginger Brown: Too Many Houses
When her parents get a divorce, six-year-old Ginger lives for a while with each set of grandparents and begins to understand her new family situation while getting a good dose of love. (Grades 1-2 and older reluctant readers)
"Newly independent readers who are confused by all the changes that divorce brings will have a lot in common with Ginger Brown." Potomac Children
---

Ginger Brown: The Nobody Boy
Ginger's summer at her grandparents' home in the country is enlivened by the appearance of a little boy who calls himself Nobody." (Grades 1-2 and older reluctant readers)
"Many young readers will find this First Stepping Stone Book a supportive story, with no false cheer but a strong sense of fun and friendship." Booklist