Our Pen panel at the Brooklyn Book Festival on Writing Historical Fiction was exciting!
The moderator, Fatima Shaik, asked provocative questions followed by questions from the audience. I enjoyed contributing to the discussion along with my fellow panelists.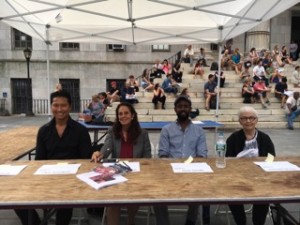 The picture to the left is of all of us on the stage. I think we look quite serious! But then putting history on the page is a topic we take seriously.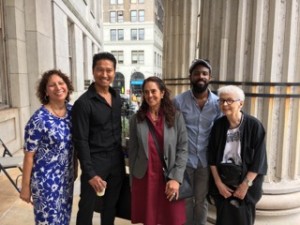 You can get a closer look at our faces in this shot: (l. to r.) Moderator Fatima Shaik, Chris Soentpiet, Sharon Dennis Wyeth, Sean Qualls and Jeanette Winter.
After our panel, we stayed to sign books and to say "hi," to people passing our table.